Advantages and disadvantages of each material for tents and tarps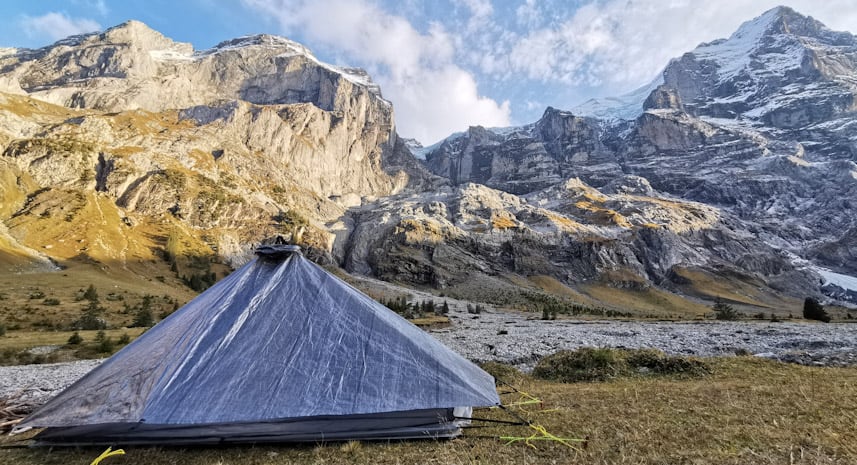 Silnylon is often used as the main material for tents. That is a nylon layer, which is coated with silicone on both sides. The silicone increases the tear strength and makes the material water repellent or waterproof.
Instead of nylon, sometimes polyester is used with the same process. This is then called Silpoly. The following is a list of advantages and disadvantages. The trend among homemade tents and tarps is slowly moving more towards Silpoly due to some very positive properties. However, the big manufacturers are still mostly using Silnylon.
Ultralight tents are also increasingly made with Cuben Fiber. It is a laminate with extremely strong Dyneema fiber in between. This makes it very tear resistant and waterproof. For more detailed construction and technical data see: Cuben Fiber (Dyneema Composite), X-Pac, Cordura and co.
silnylon
Advantages:
Low price
More tear resistant than polyester
Can be folded very compactly
Wide range of colors
Larger selection of fabrics compared to Silpoly.
Disadvantages:
Very susceptible to UV rays which damage the material.
Can get relatively waterlogged despite silicone coating
Loses tension when wet which can mean re-tensioning the tent.
Seams need to be sealed.
Silpoly
Advantages:
Low price
Does not lose tension when wet
Polyester itself is water repellent. This means it does not soak up water as much as silnylon.
Very good UV resistance
Can be folded very compactly
Wide range of colors
Disadvantages:
Seams must be sealed.
Less tear resistant than silnylon of equal weight.
Limited material selection.
Cuben Fiber (Dyneema Composite)
Advantages:
Extremely tear resistant
Waterproof
Easy to repair with common adhesive tape
Does not absorb water
Low stretch
Disadvantages:
Very expensive
Abrasion resistance for non-hybrids.
Does not fold up as compact as silnylon and silpoly.
Must be pitched perfectly as a tent since no stretchability
Stiffness
When kinked, holes can occur