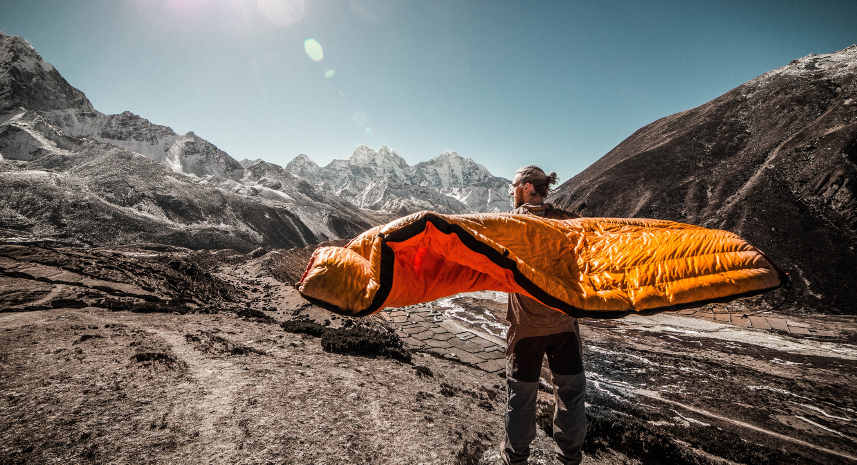 Down can only do its job if it can spread. This means that if it is compressed, for example by lying on it, it has almost no insulating effect. That's why many ultralight hikers now swear by quilts.
Quilts are basically sleeping bags only that they don't contain down on the underside or are simply open. So a bit of a mix of sleeping bag and blanket. Thus, part of the down filling can be dispensed with which results in fewer grams. The insulation against the cold ground takes over the Iso-Mat. The pack size is accordingly smaller with a quilt. In very cold environments, however, a sleeping bag can make more sense, because a quilt often lacks the head part. Again, you can simply put on a hat or use the Buff as a hat substitute.
The temperature specifications of the US manufacturers are usually set very optimistically. Mostly given in Fahrenheit (example 30F which is about -1 degree Celsius). Exception offers here Katabatic which have declared the temperatures relatively reliably.
Synthetic
Advantages:
Dries quickly
Hardly absorbs moisture
Does not clump
Warms a little better than regular down (not DryDown) if wet.
Disadvantages:
Warmth to weight ratio worse than down.
down:
Advantages:
Small pack size
Very good warmth to weight ratio
With Drydown also good protection against water
More durable than synthetic fiber
Disadvantages:
Clumps easily if untreated down is used (e.g. DryDown).
Warming effect is lost if wet as the spreading of the down is reduced
Note:
With down, the cuin value determines the bulking power, i.e. how much 1 ounce (28 grams) spreads out again after a special measuring procedure - in which the down is compressed. The more bulking power the less down is needed to achieve the same volume. 700 cuin should be considered the minimum for high quality sleeping bags.
Recommended quilts: