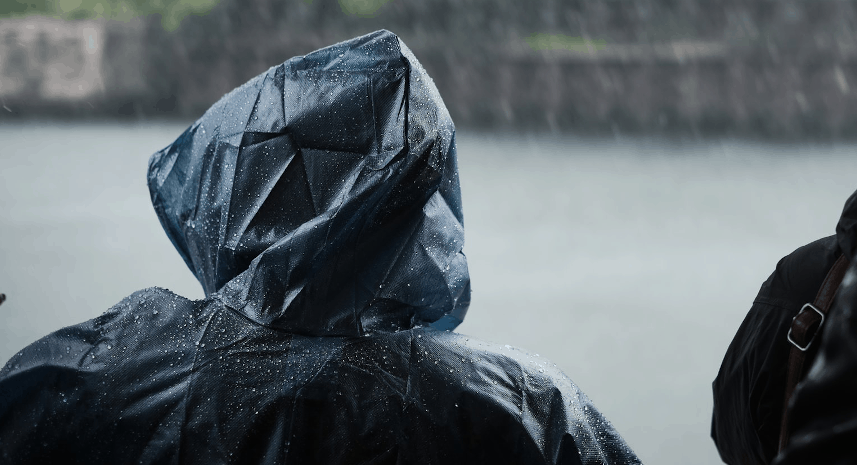 More and more ultralight hikers rely on ponchos. The point is that the poncho also serves as protection for the backpack. Thus, there is no need for an additional raincover. The ventilation is extremely good depending on the model because they are open at the bottom and often have very wide openings at the sleeves. Therefore, the poncho can also be made of 100% waterproof material and does not need a waterproof and expensive membrane like Gore-Tex. See also: Shoes, Gore-Tex and Gaiters.
The poncho can be thrown over you while you are running, but with the rain jacket you have to take off your backpack.
Disadvantage is that the poncho is often only knee-length and thus the lower area certainly gets wet. However, most people are not bothered by this. An important factor is agility on the trail which is restricted with a poncho. So a rain-jacket might be the better option for technical trails.
The weight saving is relatively high. You do not need a rain jacket and rain pants and a backpack raincover.
poncho
Advantages:
Weight saving compared to traditional rainwear.
Low price
Easy to put on
Good ventilation depending on the model
Simultaneous protection for backpack
Disadvantages:
Legs get wet
Little protection against insects.
Less agile. Therefore unsuitable on very technical trail
Rain jacket and pants
Advantages:
Full rain protection
Good protection from insects
Disadvantages:
Weight
Expensive
Difficult to put on
Raincover needed for backpack