From leather boots to sandals made from car tires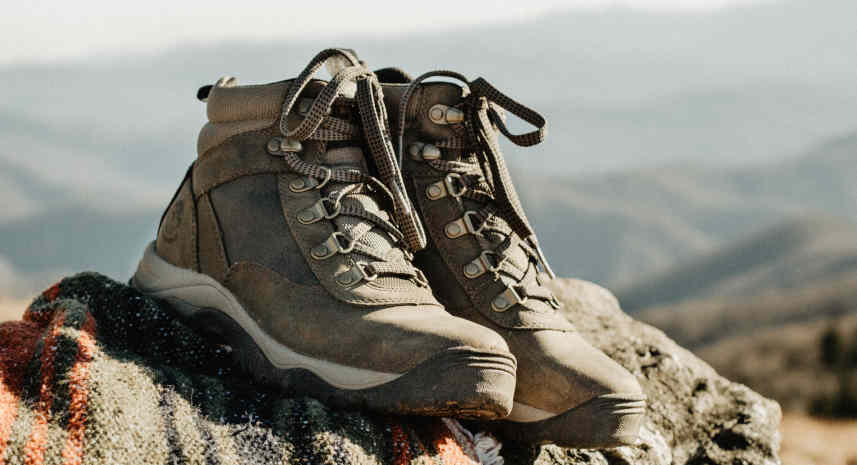 The general opinion says, as soon as one undertakes a longer hike or is on the way in the mountains, symbolically the 1.5 kg heavy leather boots are unpacked. Basically, every foot is different and everyone must find the appropriate recipe for themselves..
High shoes can contribute a bit to stability in the ankle joint. But if you are about to twist your ankle, it may be the knee joint that will suffer instead of the ankle.
In addition, several studies (Journal of Rehabilitation Research and Development) concluded, that the extra weight on the feet is between 4.7 and 6.4-times as much on your back. Example: 500 grams of heavier boot means about the equivalent to 2.5 kg of extra weight on the back due to energy consumption.
The conclusion is that the feet also tire much more quickly, which in turn can contribute to a higher risk of accidents.
Many Thru-Hikers now rely on trail running shoes. These are similar to sneakers very light and comfortable. However, they often have a very good sole for outdoor adventures.
Gore-Tex:
For short hikes, Gore-Text and the like can be useful. The problem with this is once water resistant shoes are wet, they dry massively slower than non-water resistant shoes.
Most of the time, the shoes get wet in any case, whether it is from the outside, by rivers, rain or a wet meadow, or even more likely from the inside by sweating. However, non-water-repellent shoes then dry again very quickly.
Gaiters
They are available in all kinds of variations. Waterproof up to the knees or the super light and stretchy ankle-high ones made of spandex and polyester. Often thru-hikers go for the lighter variation to keep small rocks and sand out of your shoes. Dirty Girls Gaiters and Altra offer good options here.
Zero-Drop
A zero-drop means the shoes are the same height at the heel and toes. Often shoes have a 6-12 mm drop. These are then 6-12 mm higher at the heel than at the toes.
Popular trail running shoes among ultralight hikers:
It remains important in any case: test the shoes extensively before a long trip. What works for one, does not necessarily work for the other. Depending on the anatomy of the foot, such as wide forefoot, flat foot … a different model or even boots with hard soles can make sense. Apparently there were also hikers who made a sandal out of an old car tire and used it for the PCT. Others walk around barefoot their whole life.
The metatarsal bones are significantly more stressed with a soft sole. In the worst case this can lead to a marching fracture. Therefore, try it out and listen to the alarm signals of the body.