...and the fall from Mount Everest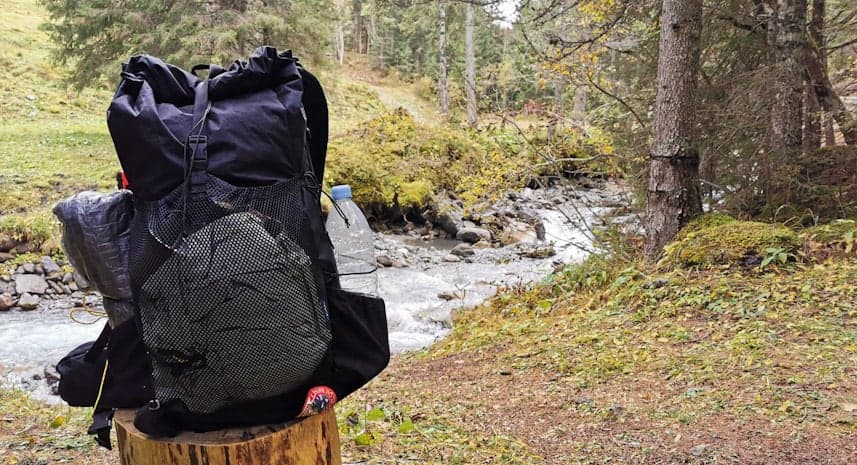 Osprey, Deuter, Fjällräven, Mammut and Co. They all certainly produce very high quality backpacks. However, many in the 50-60 liter category are already around 2 kg without contents. There is not much left to be still Ultralight on the road.
For day trips or even times a weekend, this certainly makes no difference. However, if you are weeks or even months on the road, this has quite a high impact on the comfort while hiking. It is a trade-off between stability and the likelihood of a defect.
The Osprey Atmos, for example, you can probably throw it off the highest mountain in the world and it will only take a small scrape. But how likely this scenario is in everyday life, everyone must probably find out for themselves.
The next point is the size of the backpack. For longer tours, you often go to the sports store and get advice. There it is then: "Minimum 80 liters" touring backpack made of this super-sturdy nylon. Do you really need 80 liters? Or can't you reduce your equipment list so that a 50 liter backpack is sufficient? Basically, you're probably never in a survival situation where the Bear Grylls axe and hunting knife are needed. Minimalism leads to the goal here.
Many of the common backpacks contain countless zippers, pockets, buckles and straps. All of this means more susceptibility to error, as well as more unnecessary grams. A simple backpack with a "roll top", an outer net and comfortable shoulder straps will usually do the job.
Recommended based on personal or friends experiences here are for example:
All suggestions except the Osprey are primarily available from small US Ultralight manufacturers. Disadvantages are additional customs costs and that a try-on is not possible.
---
Z-Packs Arc Blast / Arc Haul: The Arc Blast is made of relatively thin 3.1oz/yd2 Cuben Fiber. The Arc Haul is made of 4.85oz/yd2 Dyneema Ripstop. Nearly every long distance hiker with these backpacks that I encountered had issues with defects and early wear. Straps snapped, the frame had a hole poked through the fixings, or the frame was broken altogether.
I personally did not have a good experience with the support from the ULA company and the quality from the ULA Circuit. Therefore, I can not make a recommendation for this.