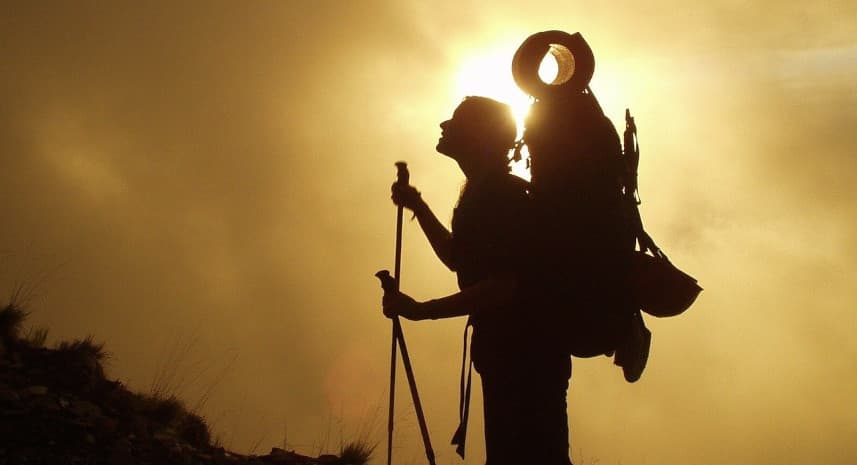 PLB (Personal Location Bean) - SOS Device
There are a few sections that seem rather dangerous. Worth mentioning here are: Tararuas and the Richmond Ranges. Basically, as with most hiking, the risk of injury is a reality as with other sports. From the risk of falling to river crossings to blood poisoning. The dangers are many and varied. A PLB (personal location bean) can save lives. The PLB informs the emergency call center via satellite with location data and thus works in most locations with a clear view of the sky even without a network connection. Some PLB's also support obtaining weather data via GPS. This is extremely helpful for planning more dangerous sections.
See in this regard: SOS Devices for Thru-Hikes and Dangerous Hikes
Good hiking poles
are also recommended, as these can often prevent falling and twisting.
Gaiters
Extremely helpful to keep small rocks and sand out of your shoes. Blisters are reduced.
See in this regard: Gaiters to keep stones out of your shoes
Hiking backpack
The volume of the backpack is very individual and especially adapted to the base weight. For me personally, a light 45 L backpack without frame worked very well with a base-weight of 4.7 kg. During the 10 day resupply sections, the backpack was certainly pushed to the limits.
See in this regard: Ultralight Hiking Backpacks
sleeping bag/quilt and sleeping pad.
The temperature can vary extremely. Therefore, better to pack a little too warm than to freeze on the trail. I prefer the quilt and especially down. Before the hike I was strongly advised not to use down in New Zealand because of the humidity. I cannot support this statement. Down worked flawlessly in my case and provided a much better weight to warmth ratio than synthetics.
See in this regard: Quilt or sleeping bag the pros and cons and Ultralight sleeping pads for hiking
shoes
I wore out a total of 5 pairs of shoes. However, the quality of my Fuji Trabucco Ultra-Runners were not very good. Many other hikers have worn out 3 pairs of shoes. Most of the thru-hikers also wore trail runners. It is important to test shoes extensively before starting! For some, hiking boots may be a better choice.
See in this regard: Shoes, Gore-Tex and Gaiters
Tights and hiking pants
Depending on the model, the tights or hiking pants help to keep the extreme UV rays as well as sandflys away from the legs and are absolutely recommended.
Shirt
I would recommend a long sleeve UV50 shirt that is as light and breathable as possible. A polyester or nylon shirt is ideal. Merino is also a good choice. Cotton and the like should definitely be avoided as with other sports.
Hat
To protect the head from the extreme rays of the sun, it is recommended to wear a sun hat. These are available in many variations.
Head net
In order not to lose your mind by the thousands/millions of sandflys, a head net is recommended!
Rainwear
In New Zealand it can be very rainy. Don't worry it doesn't rain every day! I was amazed at how little it rained compared to my expectations. A poncho or a good rain jacket is a must.
See in this regard: Rainwear for hiking a comparison of options
My gear list for Te Araroa
| Range | Product |
| --- | --- |
| Backpack | Custom 45L X-Pac VX21 |
| Sleeping Bag | Quilt EE Revelation |
| Walking Sticks | Black Diamond |
| Down Jacket | RAB |
| Poncho-Tarp | Custom (selfmade) |
| sleeping pad | ThermARest Xlite Large hip cut |
| mesh tent | Custom inner tent |
| Cell Phone | Huawei P30 Pro |
| baselayer | Patagonia R1 |
| Satellite Phone | Garmin InReach Mini |
| hiking tights and shorts | Puma tights and shorts |
| Pillow | Nemo Pillow |
| Water Filter | Sawyer Squeeze |
| Socks | Smartwool phd light |
| cooking pot | Titan 550 ml |
| Socks | Smartwool phd light |
| underpants | Smartwool Antomica |
| headlamp | Nitecore N20 |
| Emergency Kit | Ibuprofen, cold tablets, alcohol tab, plaster, eye drops, emergency blanket |
| Tent Stakes | 6 MSR mini Groundhog |
| Multifunctional Scarf / Neckerchief / Cap | Polyester Buff |
| Gloves-Waterproof | Showa 281 XL |
| Necessair | toilet paper with removed cardboard roll |
| Water Filter Accessories | Platypus Bag 2L |
| Bag for food | Custom (selfmade) |
| Necessair | Charger |
| Bottle with SportsCap | 1.5 Liter |
| Disinfectant | 50 ml |
| mosquito net | Sea to summit |
| Necessair | Toothpaste mini |
| Trowel / Backup-Stake | Aluminum |
| Knife | Victorinox mini |
| Titanium Spork | |
| Lip Balm | Burts bees |
| Necessair | dental floss |
| Necessair | Toothbrush |
| In Ear Headphones | JBL Endurance |
| Necessair Pouch | Custom (selfmade) |
| Lighter | Bic mini |
| Money / Cards / Passport - Pouch | Custom (selfmade) |
| Necessair | Earplugs for sleeping |
| Stuff-Sack Tent-Stakes | Custom (selfmade) |
| Necessair | Needle |
| Powerbank | 13000 powerbank |
| hiking boots | Fujitrabucco 7 |
| Hiking Shirt | Marmot UV 50 (Nylon) |
| Cap | Sunday Afternoons Ultra-Adventure Hat |
| Necessair | USB->Usb-C and MicroUsb Charging Cable |
| Waste Bag | - |
| Stove | MSR Pocket Rocket 2 |
| Gaiters | Custom (selfmade) |
| Soap | Bar Soap |
| Wet Wipes | For Alternative Shower |
| Nail Scissors | - |
| Gas | Gas Canister MSR 230g (lasts 10+ days with 1-2 times boiling water) |
| Gloves Baselayer | RAB |
| Camp shoes | New Balance Ultralight Slippers |
---